Went to the CEO's house for a huge lake party on Sunday of Labor Day Weekend... commandeered one of his ludicrously overpowered JetSkis (a Bombardier XP) for the day.

Ate enough prime rib, at various points in the day, to lethally injure a full-grown cow if harvested directly.

Continued abusing the JetSki.

Shot a couple of games of pool, drank a couple of beers, ate some more prime rib.

Returned to abusing the JetSki.

Overnight camping trip on some crazy little island rained out, so everybody decided to "rough it" with 20 or 30 other crazy company types at the local Holiday Inn instead.

Abused the Jetski one last time before leaving.

Took two friends to the local Applebee's. Took two and a half hours to get served really, truly bad food. (One of us was "lucky" enough to get served in only one hour!) Got our own drink refills, as the waitress was refusing to go anywhere near our table, and the manager was refusing to emerge from the back no matter how many OTHER waitresses we sent back after him. Took great pleasure in informing the waitress - who only showed up, after two and a half hours, to deliver a check - in no uncertain terms, that the manager could apply the "employee discount" to our food all he liked, but that "I am not paying a thin dime for this."

Return to the Holiday Inn, after securing such overlooked necessities as dental floss and tonic water. Oh yes, and something completely useless but incredibly amusing that is made by the Eveready corporation - a "Pocket Trout." Yes, I shit you not, that's what it says on the box - "Pocket Trout." If you squeeze it, it glows. Wtf? I had to make the purchase... decided that when I got home I'd give it to PeeT as a "souvenir." (If anything, PeeT was even more amused than I was. He took to carrying it around, holding it outside moving car windows and gleefully yelling "swim, pocket trout, swim!")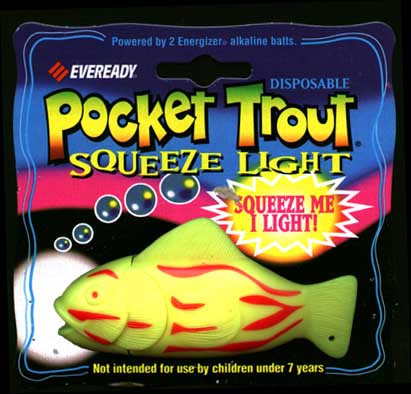 mandatory drug testing clearly needed at Eveready Corporation
Meanwhile, back at the Holiday Inn, I proceeded about the business of getting seriously intoxicated, in the room of the friends I went to Applebee's with... Tony (one of the friends) got the bright idea that we should "make the rounds" around the other 20+ rooms the company rented. We began doing exactly that.
The grave shift desk clerk started to get noticeably fidgety and nervous as the group trudging from one room to the next every ten minutes or so kept gaining members. By the time there were 15 or so of us, he'd acquired a visible nervous tic.
Invaded an annoying person's room. Three people distracted him and his girlfriend while another accomplice quietly picked up the phone and ordered a 5AM wakeup call. Sweet!
Proceeded to the pool area. Stuffed so many people in the Jacuzzi that when we got out, the water level VISIBLY dropped... Males who were jammed up close to attractive females in the Jacuzzi suddenly realized that semi-embarassing physical states can often be visible through wet bathing suits, and immediately jumped in the pool. The women followed them. Everyone suddenly realizes just how hot that jacuzzi was, and just how cold that pool is, and immediately gets the hell out... and women who jumped in that freezing-ass pool suddenly realize that semi-embarassing physical states are VERY visible through THEIR wet bathing suits. Heh heh heh... =)
After going back inside and again frightening Milquetoast, our intrepid night clerk, the grand party dispersed like bad gas on a crowded school bus. Some people got together and partied a few hours more, others immediately headed for their own rooms and crashed. Eventually, unconsciousness reigned supreme - and, one presumes, Milquetoast breathed a ragged sigh of relief.
5:30 AM: the victim of last night's divide-and-conquer wake-up-call tactic retaliated by pounding on random doors and screaming. Unfortunately for said victim, almost everyone else was far too comatose to bother responding. Grunting and rolling over was perhaps the most common reaction, closely followed by the "pillow-over-the-head" maneuver. Eventually, the victim gave up, checked out early, and departed.
9:30 AM: the rest of the miscreants begin slowly, erratically moving in groups of twos and threes to the Jacuzzi. Tony and I, who commandeered the Jetskis for nearly the entire day Sunday, seriously contemplated drowning ourselves in the Jacuzzi so we'd never be forced to leave it under our own power.
11:45 AM: the last of the bedraggled party survivors (me!) finally got done showering and packing and checking out. Groan... now all I gotta do is drive two hours home in a front wheel drive car with no power steering and a 2.5 turn lock-to-lock ratio, with arms like overdone penne pasta... auuuggghhhh
--------
I consider the weekend to have been a smashing success.